Banquet Room

Big John's Family Fixin's – Davis, WV
Host Your Party With Us! Event Room at No Charge!
Host your next party, family gathering, or special event with us! Big John's Family Fixin's in Davis is the ideal place for a wide variety of gatherings in Canaan Valley, WV. Our upstairs banquet room is available for your private party or special event at no charge when we prepare your meal and drinks!
Birthday Parties
Anniversary Parties
Baby Showers
Bridal Showers
Wedding Rehearsal Dinners
Corporate Meetings/Events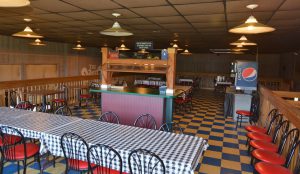 Reserve Our Banquet Room
On-Site Food and Drink Catering
Party and event reservations at Big John's Family Fixin's include standard on-site food and drink catering. Order ahead for efficient service or make your menu selections when you arrive. Treat your guests to the same great Big John's Family Fixin's food and drinks available in our Full Menu. Contact us to make your reservation today! Call: (304) 866-4418.
Parties & Event Accommodations
The West Virginia Room
Are you planning a party, event, or larger gathering with family, friends, or coworkers in Canaan Valley? The West Virginia Room at Big John's Family Fixin's can comfortably accommodate groups of up to 30 on the upper level of the restaurant.
Our banquet room is located away from the excitement and games on the first floor. It offers a more relaxed venue that is great for a wide variety of events from child and adult birthday parties to holiday celebrations and more.
Catering
Please note: All catering is provided on-site. We are not offering off-site catering at this time. Please call for additional information: (304) 866-4418.