About Big John's Family Fixin's
– Davis, WV

Where Family & Fun Come First
"Family Is Our Middle Name"
Big John's Family Fixin's is a rather unique type of dining establishment. Of course, we serve up some of the most delicious, freshly prepared homestyle meals in Davis, but for us it is about so much more than food. While food fuels the body, we recognize that the love of family fuels the soul. Here, family – and fun – is at the forefront of all we do.
For restauranteur and Big John's Family Fixin's owner Matt Haverty, our eatery represents, in part, the concept of a transition focused on what truly matters most in life – the little moments that we all later discover . . . were not so little after all.
Spend Time With Us
When you dine with us, consider lingering for a bit to spend time with your family before you rush back to your stress and worries. You are assured they will still be there, patiently awaiting your return. Our eatery offers an arcade. You may want to challenge your family to a game there. We also provide an open-air porch deck with seating overlooking the pond. It is a lovely place to sit and talk.
"Time is the most valuable thing a man can spend."
–Theophrastus, Philosopher (Ancient Greece)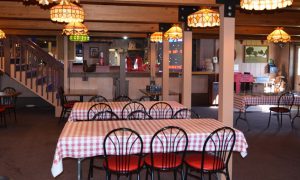 Our Passion for Tempting
Your Taste Buds
At Big John's Family Fixin's, we are passionate about recreating your favorite homemade comfort foods. Our goal is to tempt your taste buds and wrap you up in the same type of good feelings you enjoy while dining with your family and friends at special holidays and gatherings, while sharing a meal with our neighbors, as well as travelers passing through our area. To accomplish this, we take it back to basics – all the way back.
Only the Finest
and Freshest for You
We prepare our meatballs, Alfredo and marinara sauces fresh from scratch daily to present you with the authentic homemade taste you crave. Our chef sources and serves only the freshest meats, cheeses, grains, and produce to recreate our family's most treasured recipes for your dining enjoyment. Here, we take our time to prepare our entrees with care. We carefully season and assemble our signature burgers, sandwiches, and pizza to deliver the mouth-watering taste you expect from Big John's Family Fixin's. You deserve it.
About Our Owner – Matt Haverty
Dedicated Foodie and Local Restaurateur
Matt Haverty is a dedicated foodie and hands-on local restaurateur who brings wonderful flavors and unique dining options to Canaan Valley. He owns and manages Big John's Family Fixin's – your family-friendly source for the finest freshly prepared homestyle meals served with a side of fun. In addition, as owner and Pitmaster of Canaan Valley BBQ, he focuses on the master-craft of creating delicious Southern-style barbecue. His work philosophy demonstrates the truism of hand-on involvement as key to success as a restauranteur. From sourcing and purchasing his own foods, preparing them with heart and soul, and presenting entrees with a passion for service, Matt clearly loves his work.
The Fulfillment of a
Lifelong Culinary Vision
Matt grew up in Canaan Valley, where his lifelong dream was to operate a restaurant. He started working in the restaurant business at age 14 and continued learning the trade as he explored the flavors of the Deep South. As a father, Matt's love for his son, Caden, and renewed sense of appreciation for family led him to the desire to open a family-friendly eatery. His vision for a restaurant where local families with children could enjoy quality homemade foods with an emphasis on fun was realized with the opening of Big John's Family Fixin's – a special place that Matt is proud to own and be a part of.
Hearts Content in
Canaan Valley, WV
When Matt isn't leveraging his skill for creating legendary Southern-style barbecue and home-cooked comfort foods in his beloved West Virginia Mountains, he enjoys spending quality time with his energetic 6-year-old son, Caden. Together, the Haverty family looks forward to hiking and sport fishing watersheds throughout Canaan Valley.