Big John's Family Fixin's
Casual Family-Style
Restaurant in Davis, WV
Big John's Family Fixin's is a casual, country-style family restaurant designed to offer an entertaining dining experience for guests of all ages. We prepare delicious, homestyle comfort food and American classics with a focus on freshness and flavor. You'll feel right at home in our cozy atmosphere. In this fast-paced world, Big John's is proud to offer dining with a side of good old-fashioned family fun – a place you can relax and enjoy quality time with those you love. Stop in and let us fill your belly. We'll see you soon!
Family Fun, Great
Food & Great Prices!
At Big John's Family Fixin's, we serve up generous portions of mouth-watering food and family fun at unbeatable prices. Our laid-back eatery offers a welcoming place for you and your family to enjoy our family's favorite recipes – many have been passed down for generations! From our handmade meatballs, marinara and Alfredo sauce to hearty dinner salads, delicious pizza, wings, sandwiches, sides, hand-dipped ice cream and so much more, our menu has something for every taste.
Prize Arcade
Our prize arcade is a great place to enjoy a trip back in time. Try a challenging game of Space Invaders on the big screen – it's an all-time favorite! Shoot some hoops, practice your carnival gaming techniques, or take down that big buck with your hunting skills. We offer a wide selection of classic and modern amusements for all skill levels.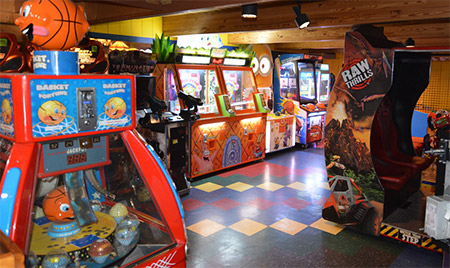 Dine-In, Al Fresca (Outdoor)
Waterfront Dining, and Take-Out
Why cook? Call ahead for convenient carry-out service and enjoy delicious homemade flavor tonight without the hassle and clean-up. Pick up your order – and don't forget some ice cream! Dine in The Duck Room – the comfortable, casual, lower level of our restaurant – or enjoy waterfront al fresca (outdoor) dining on our porch deck with picnic tables. The Country Porch overlooks our pond and offers a relaxing view of the surrounding landscape.
Our Story
Big John's Family Fixin's is a special dining experience like no other. Family memories to last a lifetime are made here. We invite you to read more about why our eatery was established – and our passion for tempting your taste buds.